Lick Mountain Excursions- Southwest Virginia Nature Excursions.
We are presently only taking advanced reservations for rides. The picture, above, of our pond at Hemlock Cove is just a small taste of what fall looks like in the mountains.
The air is alive with bird song and you can enjoy nature up close, from the wetlands to the summit- be sure to bring a camera. Your ride will take approximately 90 minutes and if you want to hike the last 50 yards to Buzzards Roost be sure to wear appropriate footwear.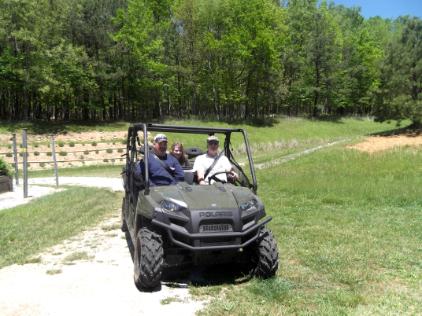 Your ride begins down at the farm. From there it is a ride on part of the old wagon road from Austinville to Wytheville, imagine the stories this road could tell.
While traversing a variety of terrains during your journey you will enjoy the cool shade of tall thick pine canopies and feel the warmth of the sun in the open expanses as you approach the summit.
As you ascend, Gregg, your guide, will be able to point out and stop at great photo opportunities as you proceed on your trip.
Be sure to bring your camera to take pictures of the wildlife inhabiting the wetlands at Hemlock Cove or capture the panoramic vistas on Buzzard's Roost.
Gregg enjoys sharing the history of the area. He is very familiar with the mountain, trails and wildlife and will be glad to answer any question you might have.
We can accommodate up to five riders at a time. We do have a two rider minimum. Seatbelts must be used at all times while the vehicle is moving. Helmets are available upon request.
Be sure to bring your camera
About Us
We are located 10 miles south of Wytheville on the grounds of the Beagle Ridge Environmental Education Center. This outdoor retreat is adjacent to the Big Survey Wildlife Management Area ( BSWMA) over 7,500 acres of pristine wilderness and the Wytheville Watershed, another 1,800 unspoiled acres. Although we will not be riding on either of these properties there are walking trails once we get you to the top. This area is known for its wide variety of migrating song birds and is on the Virginia Dept of Game and Inland Fisheries Wildlife and Birding Trail.
Services
We have several packages and will be glad to create your own special trip for you. Check out the packages we have available on our link below.
Reservations are required
Email us at beagleridge@gmail.com
Testimonials
"This ride was awesome, great day, fun stories, could have listened all day. You can tell how much you love the nature that surrounds you, and such wonderful views. We can't wait to see it in the fall . Next time we will take advantage of the picnic lunch and be prepared to do some more bird watching. Thanks for a wonderful day".
***************************************************************************************************************************************

A highlight of your 11-day trek was/is meeting YOU!

Forty-two years ago yours truly was with my now-deceased parents, as we traveled along both Skyline Drive and Blue Ridge Parkway.

We went up Mt. Mitchell via that tramway, built by the same company, as you probably know, which built the on up Pilatus is Switzerland. I've been up THAT one too.

THEREFORE...the tour that day greatly enhanced(!) those memories from 1970.
May you have continued success with your tremendous enterprise!


I hope you're feeling better, after the "fun n' games" you endured that day.
Bob Caldwell
Lewiston, ME
*********************************************************************************************

What an amazing ride; the scenery was great, colors almost perfect and the deer and the fawns were just adorable. Would have loved to see them with the spots still on like you mentioned. Maybe next spring when we come back to Paul's. Gregg is just a fountain of knowledge and we could tell both of you love what you do. I will be sending you some of the pictures I took shortly. meanwhile feel free to use this email as a testimonial and best of luck to you both. It was well worth it and we didn't want to leave.
Sara and Bob Johnson,
Fredricksburg VA
*********************************************************************************************